Style
6 Adorable Dainty Necklaces (You Need in Your Life)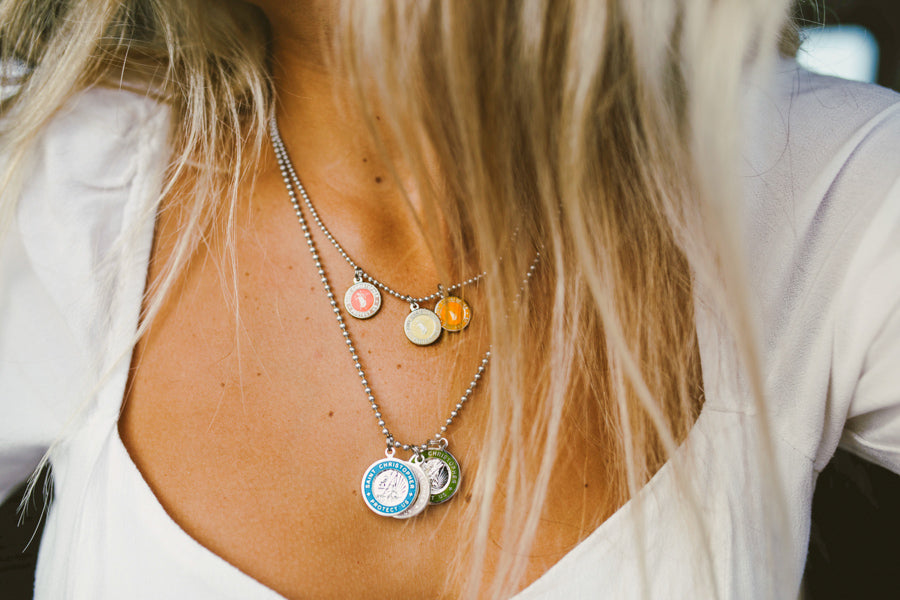 Dainty necklaces are really having a moment. And the moment seems to be lasting quite a while, so dare we say that they're here to stay? Yes, we dare. Dainty necklaces are in and they're not going anywhere.
Whether you're styling them solo or layering with multiple pieces, small necklaces are a welcome addition to any outfit. To make your search for the perfect necklace easier, here are seven adorable dainty necklaces to add to your jewelry collection!
7 Adorable Dainty Necklaces
Small St. Christopher Necklace in Pink & White
This small St. Christopher Surf Necklace features a light pink and white St. Christopher medal on an 18-inch ball chain that you can cut to the exact length you want. Available in tons of different color combinations! $14
Black Cord Choker with White Charm
'90s inspired and ready to rock and roll, this Black Cord Choker necklace is super versatile and can be worn with a ton of looks. Dress it up at night, dress it casual during the day… wear it on the beach and at the pool! This choker knows no bounds. Okay, that's dramatic, but really… it's pretty awesome. $24
SHOP NOW >
Be Pacific Choker
The Be Pacific Choker is boho beautiful featuring blue seed beads and a St. Christopher charm in Silver & Aqua. This cute necklace goes perfectly with a beachy look – complete with salty hair, a great tan, and a huge smile. $24
SHOP NOW >
St. Christopher Necklaces in Small & Medium
These St. Christopher necklaces feature a colorful silver-plated St. Christopher charm on a ball chain and are available in three sizes: small, medium, and large (pictured above are 2 smalls and 1 medium). For the most dainty necklace, opt for the small size. Available in over 15 color combinations and perfect for best friend necklaces! $14 - $16
EZ Does It Choker
The EZ Does It Choker has a chill neutral color palette that goes with just about anything. Featuring a white on white St. Christopher charm on a strand of seed beads, this dainty choker is super cute, comfortable, and adjustable. $24
SHOP NOW > 
How to Style Dainty Necklaces
From top to bottom: Wave-Washed Melon Choker, Small St. Christopher Necklace in White/White, Medium St. Christopher Necklace in Aqua/Sand
Dainty necklaces can be styled in all the ways! Here are just a few of our favorite ways to wear small necklaces.
Rock It Solo
Classic and easy peasy – rock your necklace solo for a subtle compliment to any outfit (works with or without surfboard). Check out: St. Christopher necklaces in Silver/Black
The More the Merrier
Why stop at one dainty necklace when you can wear a collection? Stack three or more small St. Christopher Necklaces for a textured look and cut the chains to fall at slightly different lengths.
Party of Two
Dainty choker + dainty necklace = all the cuteness. 
St Christopher Choker + Small St. Christopher Necklace in Silver/Teal.
Layer It Up
Layering – works great for necklaces, hair, and cakes. Style a dainty necklace or two with necklaces of other lengths and sizes. Pictured here: 2 Small St. Christopher necklaces and 2 Large St. Christopher necklaces.
Collect 'Em All
Make your own one-of-a-kind necklace with a collection of small charms on one strand! Pictured here are 5 small St. Christophers.
Shop Chokers >>