Surf & Beach Life
A Day in the Life of an Influencer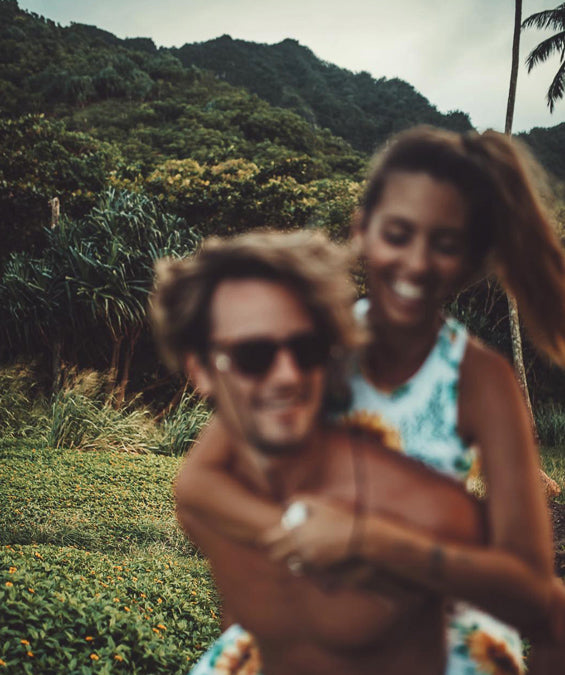 Hey all! Roxy from Get Back here.
We get tons of questions about influencers and collaborations and I think for a lot of people, the whole concept is pretty new and mysterious! Is being an influencer a full-time job? What does it entail? I decided to sit down with one of the influencers we work with most (
@carssun
) and ask him some questions you guys might be wondering!
PS- I'm including some of our favorite photos he and
@barbarabrigido
have taken! 
Roxy:
How did you originally get started as an influencer?
Carson: Photography has been my passion for a few years now, ever since I went to Australia for the first time. Over the years and with the development of Instagram is when it all came together! Barbara and I met randomly about a year and a half ago, her first day in San Diego. 5 months later she asked me if I wanted to travel the world, and that's when we started going full force! 
Roxy:
Is this your full-time gig?
Carson: Yes this is my full time job and it's a dream come true. I have my own photography business and work hand-in-hand with my wife Barbara!
Roxy:
What does a normal day consist of for you?
Carson: The ideal normal day for me consists of waking up early, doing some meditation, reading / writing, exercise and breakfast all before 9am. Then hit the computer to answer emails for a bit, plan for today's shoot and have lunch. Then head to our shoot location and take some photos for 2-3 hours. Come home and get some more computer work done / editing / dinner / relax. Everyday something new comes up where we might have to adjust the schedule a bit, but that is the gist of it! 
Roxy:
Name your top 3 favorite places on earth
Carson: First is Bondi Beach, AUS. I think second is North Shore Oahu, Hawaii...and third would have to be Uluwatu, Bali.
Roxy:
What is the best part about what you do? What is your least favorite (or hardest) part?
Carson: The best part is having freedom to make my own schedule and being able to travel without permission. We actually thrive way more in our work when we are traveling. The hardest part is also scheduling our time for work and for 'play' or relaxing. We enjoy our job so much that our personal lives & work lives blend into one. 
Roxy:
How much work goes on behind the scenes to create content?
Carson: I would say about 70% is behind the scenes. And that's one thing we want to get better at.. is showing those moments. When we are doing the busy work, we often forget to take the time to document it! 
Roxy: 
Any advice for a budding influencer?
Carson: Of course! When you're first starting out, it's all about how bad you want it. Obviously nothing happens overnight, but the more you keep at it and stay persistent, the more progress you will see. Use your free time wisely- studying photography, emailing/messaging people you want to shoot/work with, and understand its normal to not hear a response. The more you send out, the more you will receive. And that usually applies to all areas in life!