Lately
Black Female Voices on Being a Content Creator (Part 2)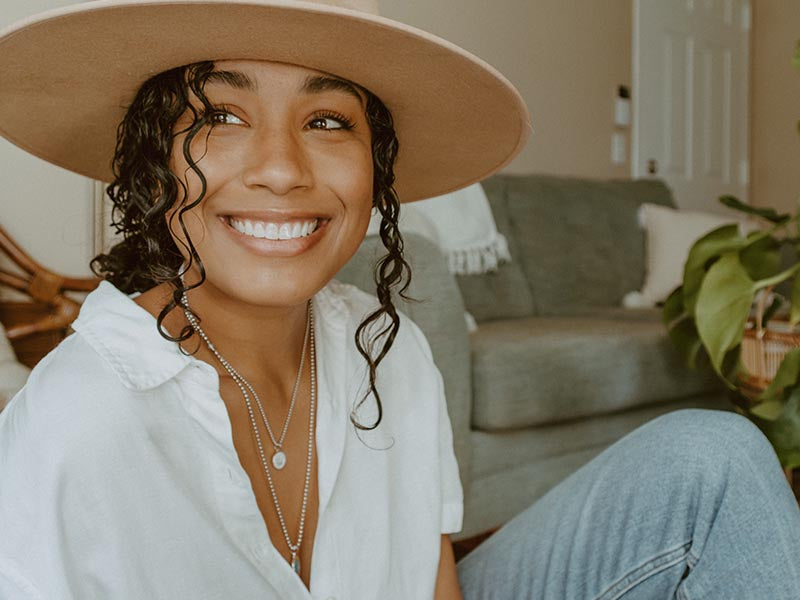 MEET: 
AYSIA NORRIS 
@helloaysia
Q: Tell us about you! Where you're from, what it was like growing up there, do you think it's influenced the person that you are today?
A: My sister and I were born in San Diego, California & spent the majority of our childhood between school, dance classes, and the beach. My mom was a single parent for the most part, so I got an incredible example of the strength, determination and grit she bore to give us the lives we had. She migrated here to the US when she was only 20 from Australia! I actually spent a few years during high school living in Western Australia – my extended family lives there and my mom is from Perth, so when we were young, we were granted dual citizenship. I loved the lifestyle there and hope to go back one day to experience it as an adult. I was lucky enough as a kid to experience living in two different places, halfway across the world from each other, and definitely think that influenced the person I am today. For one, I have a huge travel bug and am pretty impulsive when it comes to cheap flights. And secondly in all seriousness, I think being exposed to two different nations with their different histories and subcultures really opened my eyes to the world as a young adult. I'm endlessly thankful.
Q: How did you get started in content creation/photography/modeling?
A: In college, I started photography as a side hustle. I worked a part-time retail job at a board shop on most days, so I really had to make time for the hobby that photography used to be for me. After graduating college in 2019 for Graphic Design, I went on to work full-time at a creative agency which further opened my eyes to the world of media, content, photography and film. After almost 1 year, I decided it was time to trust myself and dive into photography full-time. I knew it was the right thing to do when I started having to say no to creative projects because my work schedule was in the way. 
As soon as I went full-time, I felt the burden of expectation leave my life and felt the freedom to make my life into the dream I wanted. My particular niche is couples and wedding photography (and sometimes brand photography), however I have a lot of friends who solely do brand photography! If you're plugged into any kind of photographer community, you know that collaboration is key and a lot of people try to include other creatives they know when they're in need of models or content. My friend Lindsay Stevens (an amazing SoCal Photographer) began asking me to model for a few different brands she was shooting for and after a few times, I was getting asked to do shoots with other photographers and even more brands. Now, I work with a few companies regularly to make content myself or have it shot by other photographers when necessary. 
I never really set out to become an influencer and still find it incredibly surprising that anyone would even care to wonder what I'm loving, doing, and where I'm going, but it's been a fun little adventure that I'm thankful for. Plus, I love getting to meet new, creative people and work with companies who care about the same things I care about. 
Q: What's the most important thing you've learned when it comes to content creation & photography? If you were helping someone get started, what advice would you give?
A: When a company or brand reaches out, it's likely because they like YOU. So don't try to be anything or anyone other than you when you're making content for them. Of course, it's always important to keep the specific company's brand in mind, but there's a happy medium where you're able to express yourself and your art, while also shining light on a brand you love.
Q: What is the #1 obstacle you have faced in making this a career for yourself?
A: My own worst enemy was and still sometimes is myself. I used to have a bad habit of selling myself short and still sometimes fall into the trap of underestimating myself and my creativity. Comparison isn't always a bad thing when it pushes you and inspires you, but it can be nasty when you let it kill your self-esteem. Find your balance, be honest with yourself and with others, and give yourself grace.
Q: What hurdles have you faced as a Black content creator, if any?
A: When I was in high school and the majority of college, I would scroll through my feed, watch movies, read books and rarely see or read about women of color. Until college, I would straighten my hair everyday and shy away from questions about my ethnicity. I didn't appreciate my background and my roots until my late teens and I don't remember having any black or brown women to look up to who were accessible to me.
I was the only brown woman in the majority of my college classes, even here in diverse San Diego. I have not, to this day, had one black professor other than for one African History class I took at my University. Even now in my community of photographers and creatives, I'm one in a handful of women of color, let alone black females, that I know personally who are working in the photography community. I've been privileged to grow up in a safe community and go to a good school thanks to my mom. I was able to go to college and had the means to feel confident quitting my corporate job and pursuing my creative passion instead. I know that this isn't the case for so many other young, black and brown people and we as a community need to do better, myself included.
We have a long way to go before opportunities are truly fair and accessible for all people of all backgrounds from all walks of life. My mission for 2021 in my career is (1) to highlight other women of color in their own creative pursuits and (2) to focus on bringing even more diversity into my business and making my art a place that is inclusive and welcoming to everyone who comes across it, because that's how I feel I am as a person and in a way, my work should reflect who I am.
Q: What has been your favorite project to date?
A: My favorite project to date has either been getting to work with Midori Bikinis or truly any time I get to travel for photography work.
Q: What is your favorite type of content you create & why?
A: My favorite lifestyle content to create would probably be anything related to style and outfits, it's such a fun creative outlet and everyone has a different unique taste and there's so much inspiration coming from so many different people, especially this past year. My personal style rests somewhere between coastal and city, majorly reflecting the places I grew up.
Q: What has been your experience with brands since the resurgence of the BLM movement on social media this past year?
A: I've definitely been contacted a lot more lately since the resurgence of BLM in 2020. I'm glad brands and companies are making moves to be more inclusive and represent every type of person. I am also so happy to see how much our community has been promoting Black-owned businesses this past year and how many more have been created since early 2020. 
Q: In your opinion, why does representation matter?
A: Representation matters for every person, not just people of color and minorities. While it is SO important for little black and brown kids to see people who look like them living their best lives, and doing big things, it's also important for every child to grow up with a normalized view of ALL types of people doing ALL types of things. I hope that my child one day doesn't even think twice about doing or being anything he/she/they want to be when they grow up simply because of their background, skin color, or upbringing.
Q: What do you think brands can do to be more inclusive when working with Black creators?
A: I think it's important to make sure their values align with black and brown creators' before reaching out to them simply to have someone on their website or page who makes it more diverse-looking. A company needs to have core values that reflect inclusion, equality, empathy, globalism and diversity. If those aren't characteristics of the brand, I tend to raise an eyebrow if and when they reach out, because I don't want to be the token brown person but rather someone who truly embodies their brand and what they're all about.
Q: Do you have a favorite influencer / what have they taught you/how have they influenced you?
A: I have a few! @aysha.sow (blogger + lifestyle), @thatcurlytop (sustainable fashion and lifestyle), @keliamoniz (pro surfer), @sethsanker (fashion) @kaylaseah (lifestyle and fashion), and so many more. I just love love that all of these people are doing what they love and living the lives they want to live. I think being an "influencer" is more than talking about and showing off brands that you like, but more so promoting the lifestyle that you live and why you love to live it that way. When I think of a content creator, I think of their vibe & their personality, it's rare that I remember what brands they've worked with or what collabs they've done. So of course, when I see that they love something, I'm way more-likely to try it as well because I already love what they're all about as a person!     
Q: Do you have any major "don'ts" when it comes to creating for social media?
A: I'm a broken record but it's true, there are too many carbon copies in the world because people live with the "grass is greener" mentality. Be who you are, love what you love, do what you like to do, because that is what is going to attract your people, brands that want to work with you, and will make your content just so much more unique. Create a meaningful connection with your audience through you being yourself and talking about and/or showing what is important to you often!
Q: How do you plan for photo shoots? Any tips?
A: I make a mood board and set aside a chunk of time during the day that is solely for making that content. I decide if it's an indoor or outdoor style and what propos I may need for it. Other than that, I like to leave it open for surges of creativity when I'm taking the photos or video. I find that if I plan things out too much, I lose the intention behind what I'm trying to create and why.
Q: This one's random, but we love getting put on to new music. Any favorite albums/songs that have been inspiring you recently?
A: I've been loving a range of music lately! The entire Chanel album by Frank Ocean, all of Taylor Swift's new music from 2020, everything from Johnnyswim, Lianne La Havas, Harry Styles, FINNEAS, and Leon Bridges.
Q: Final question! What is the #1 message you hope to spread across your social media platforms?
A: I really want those who follow me to know that they're important and are able to go after the kind of life they want no matter their circumstance. The only way the world can become a better, more inclusive and welcoming place is by doing it ourselves.
Follow Aysia on Instagram! 
@helloaysia