Lately
St. Christopher Sightings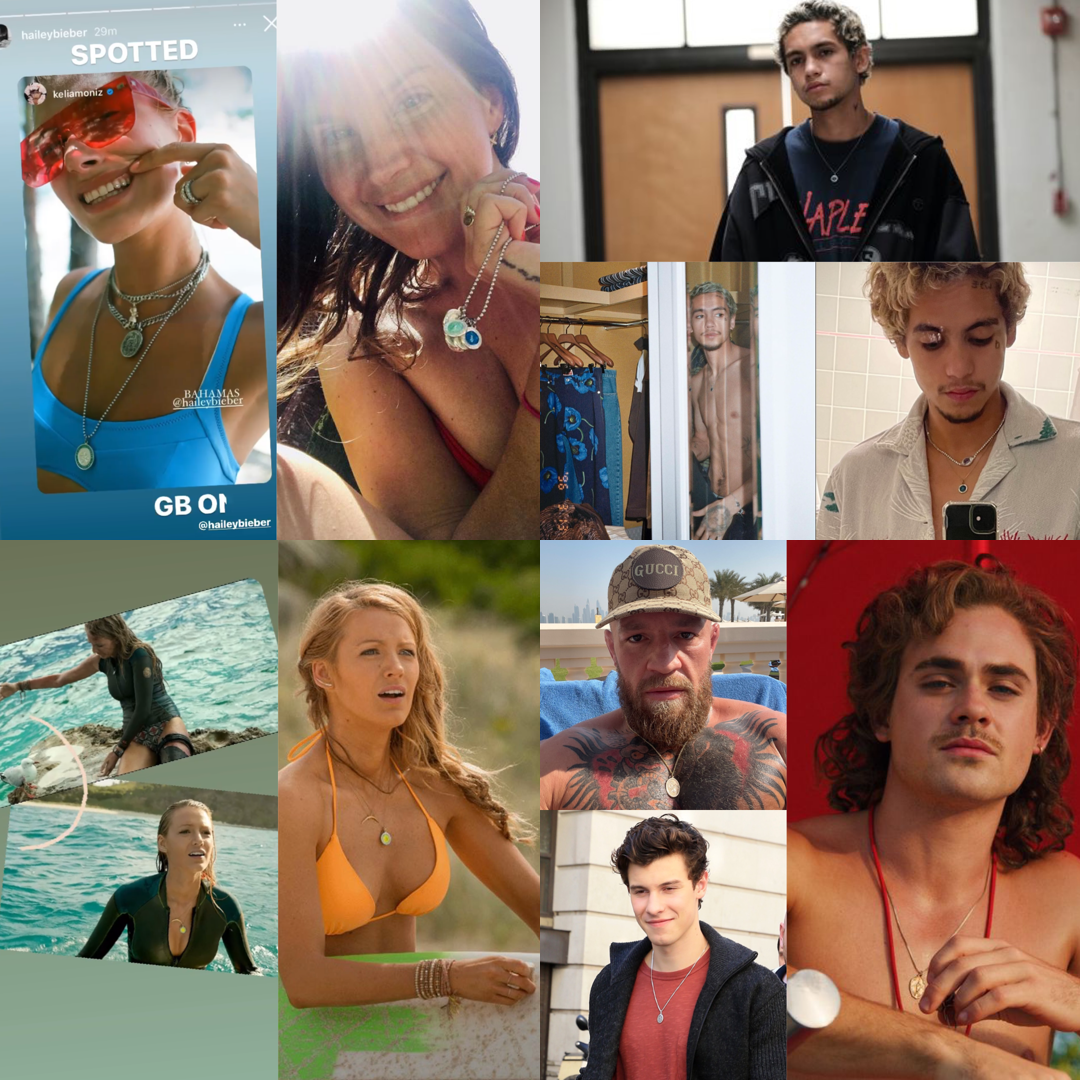 Hello, hi, how's it going? We're GB :) Whether you've been here a while, or you're new (in which case- hey, welcome!) you may still be a little confused who St. Chris is and what he's doing all over your necklaces. Well who better to inform you than us?! You're brand best friends who just so happen to be modern-day St Chris experts… :) We're the brand behind St Christopher surf necklaces (aka the ones that hit the scene back in the 60s and 70s.) But here we are today & people everywhere are STILL wearing St. Christophers- and for all different reasons too! Here are some of our favs. Who knows- maybe their reasons for wearing a St Chris will align with why you wear yours? Or why you need another one? Or 20??
Okay first we have the lovely Blake Lively sporting a classic large st. chris in the movie The Shallows. Now if you know anything about this movie, you might wonder what a horror film and Get Back have in common. Not thaaaat much, EXCEPT the fact that Blake Lively is playing pretty much the surfer girl life of our dreams. Ok, in the beginning she is. Because then she finds herself stranded on an island surrounded by sharks and that's just not our jam. Let's just say, she needed her St. Christopher for protection more than most of us. And (spoiler alert) she does make it out. So not to say it's because of her St. Christopher, buttttt maybe it was. He's the protector of travel over land and sea after all!
Next up we have a back to back DOUBLE RAINBOW of a duo: Hailey Bieber and Lana Del Ray. Both rocking some Get Back annnnnd killin' it. Lana Del Ray is styling a few small St. Christophers on one chain (we always support some mix & match action). LDR's caption says "St Christopher charms in hopes of not wiping out this Memorial Day". Which is code for- I plan on beach partying all weekend so…good luck and safe travels necklaces: on. And Hailey Bieber wore hers on the plane to the Bahamas. Looks SO good layered 😍 Wonder if she got it from Justin for going steady? Because that's a thing too. But seriously that's too much for us, our little hearts. MOVING ON!
Yep. We freaked out too. DOMINIC FIKE, LADIES AND GENTLEMEN. He wears his small blue St Chris every. single. Day. Can he PLEASE pass some along to the rest of the Euphoria cast?? PS- what if we make glow in the dark St Christophers? GAH! Someone connect us with their costume director stat.
And, since we're on a roll, thought we'd just throw out some more guys wearing St. Chris. Connor McGregor and Shawn Mendes, anyone? Rocking their gold St. Christophers proud.
All these people might not have a lot in common, butttt that's what we love about the tradition of St. Christophers. Whether you got it as a gift from your grandma, to keep you connected to the ones you love, or to keep you safe on your adventures, your St Chris is along for the ride. So next time you see someone wearing one while you're wearing yours, say hey. It's a movement :)
Alsooo, a lot of these sightings have been from our GB groupies, so if you come across someone rad wearing GB, hit us up on
social
so we can geek out about it too. Thanks in advance :)