Surf & Beach Life
Keep On Keepin' On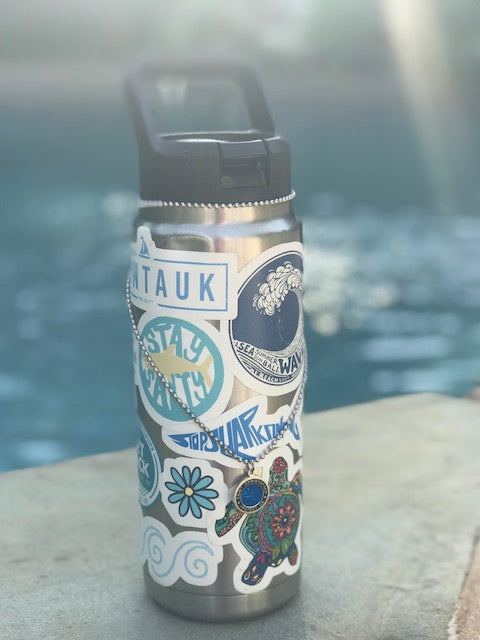 We all know that the oceans are polluted with plastic debris from humans.
We all know that this is harmful for sea life and for ourselves.
We all know that the easiest way to keep this issue to a minimum is to reduce our single-use plastic consumption.
But...can't we all agree that it isn't always as simple and easy to be green as the eco-conscious captions on social media make it seem?
It's straight up UNCOMFORTABLE to say no to a straw when you really want a straw. It's ANNOYING to carry around dirty tupperware all day instead of throwing out some ziplock bags and a styrofoam to-go container. We're here to say that we feeeel you on that. Those thoughts are valid and everyone has them. But in the end, it all comes down to the choices that we have. And unfortunately, those choices have really run out...we've gotta keep on keepin' on for our Mama Earth.
Sometimes, in order to continue doing what's right when it seems like no one else is- a little zap of inspiration is needed. We asked our Instagram fam to share pictures of how they've personalized their reusable water bottles and the amount of submissions we got made us feel oh, so good. There are so many of us out there who have joined the movement! We are not alone and every little "I'm good without a bag" or "Can you put it in my cup from home" counts. May the facts and photos below be a bit of motivation for you to keep up the good work.
-Americans use about 50 billion water bottles a year, and about 38 billion of those aren't recycled. That doesn't necessarily mean that people didn't put them in the recycling bin- a lot of times the contents of the recycling bin end up in a landfill with the trash anyway. Safest bet, just say no.
-Drinking water from the tap instead of bottled can save you some serious moolah. Drinking the recommended 8 cups of water a day from the tap will cost on average about $0.49 a year. If you were to drink that same amount by bottle, it will cost you on average about $1,400 a year. That's enough money to spend on a round-trip ticket to ANYWHERE...plus some extra for the necklaces you'll wanna bring with you for safe travels...hint hint ;)
-If being scared of tap water is the reason you prefer bottled- then let us just burst your bubble right here and now (sorry). Tap water is the source for over a quarter of bottled water sold! Some brands have been forced to label their bottles as coming from "public water sources", while others have added minerals that have no benefits to people whatsoever. It can be hard to overcome a thought you've grown up with (eg. that tap water is unhealthy) and we get that! So let's meet in the middle- why not just buy a Brita? Filter your own water...then pour it right into your Yeti, Swell, or Hydroflask.

Written by Bella Smith (@bellasmithhh)