DIY
How To Host The Grooviest Friendsgiving - The Get Back Way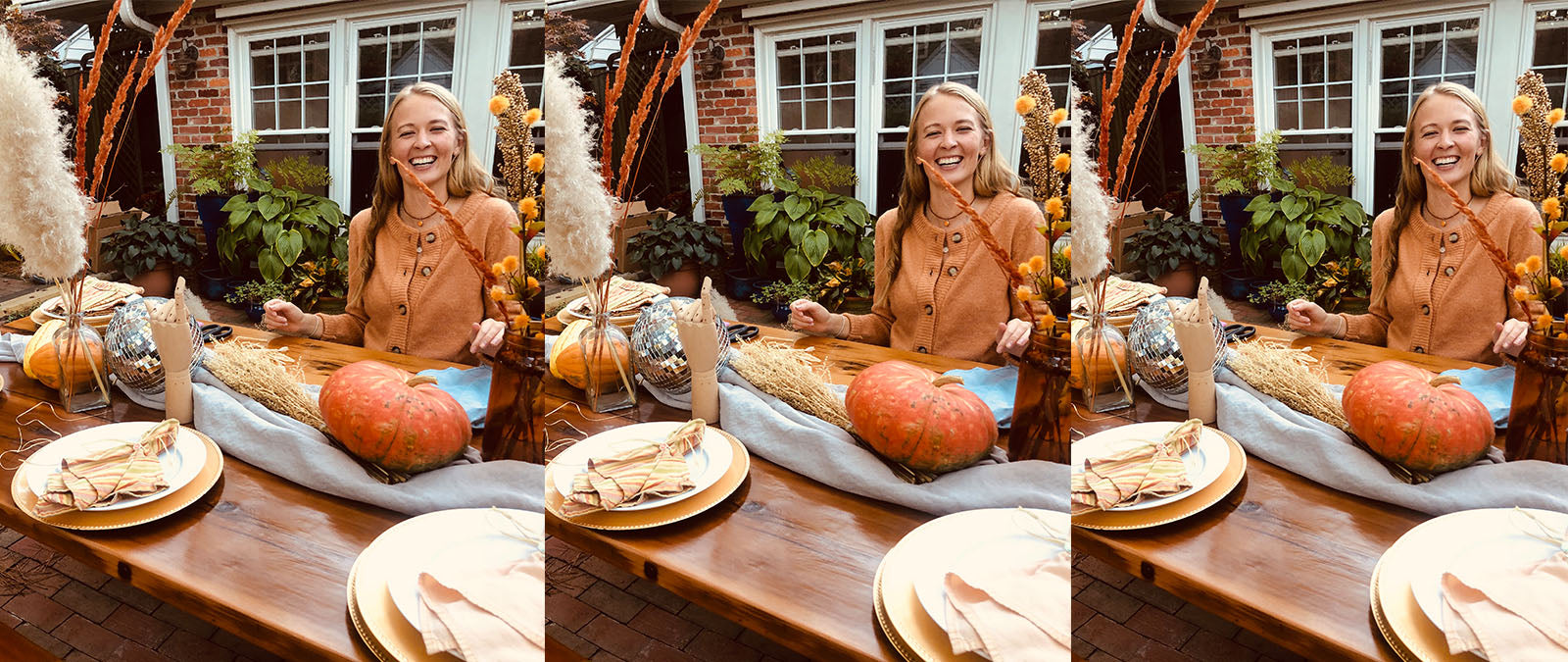 It's that time of year again. You know, when you get together with your fam, go around the dinner table and recite what you're thankful for until you eat as much as you possibly can & pass out.
Family is great, but what about your second family? What about the family you choose?? Aka: your friends!!! After the year we've all had, any reason to get together & celebrate (in a safe + socially distanced way) is MUCH needed.
SO, let's get into it.
How to host the Grooviest Friendsgiving - the Get Back way. 
STEP 1: SET THE TABLE
This year, it's probably a liiittle safer to host everybody outside (if it's not freezing cold where you are). Once you figure out the best spot for dinner, it's time to set the table. First, use something like a table cloth or old linen that can be draped across the table & used as the beginning of your centerpiece. Then, go ahead and choose some chargers (we just found out what these are- go us, adulting!) and plates that are cool & simple. If you have to borrow all of this from your mom & your grandparents, that's TOTALLY fine, use what ya got!
STEP 2: ADD THE FUN STUFF
Any sort of dry florals are PERFECT for the groovy, boho vibe we're going for. If you're ballin' on a budget, go out & cut whatever grows locally around you & throw it in some antique vases (or ones you bought from Target in the dollar section like we did). If you'd rather buy dried florals, any sort of craft store will have them (think Michaels, Jo Ann Fabrics, A.C. Moore) & ps- they usually have pretty good sales going on for seasonal stuff.
Next! Add some groovy knick knacks. We threw in a disco ball & a shaka hand, because, why not? Oh and don't forget the pumpkins. We repeat: must. have. pumpkins.
STEP 3: PREP SOME PLACE SETTINGS
4 Things You'll Need For These Super Simple GB Place Settings
- cloth napkins
- St Christophers (necklaces, rings, or earrings work perfectly!)
- some string or twine
- scissors
First, cut the twine & thread it through your St Chris charms or rings
Next, bundle the napkin and tie the twine around it with your St Chris on top
Last, place the napkin in the center of each plate. Easy as (pumpkin) pie! Ok wowwww so corny- we take it back. But how cute are they?!
Then you gotta dance break/ be proud of yourself cause you're doing adult things. (Your friends are gonna be mind blown that you even own cloth napkins.)
STEP 5: WRITE YOUR PLACE CARDS
STEP 6: PREP SOME ST CHRISTOPHERS TO-GO
Oh and they're all 50% off right now which is theeee biggest and best sale we'll have all year. sooooo...https://www.getbacknecklaces.com/ 
Wishin' you and your people a groovy good time 🌈✌🏽 And TAKE PICS! We love pics @getbacknecklaces. (hint hint)
Oh and our new fall playlist is perfect too! Check it out here :)
xoxo, GB